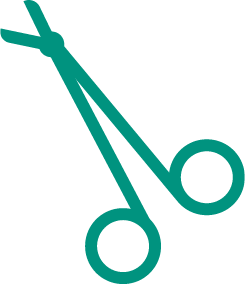 Upcoming Surgical Technology Program Start Date:
August 19, 2024
(Application Deadlines: Early Accept - March 29, 2024 Regular Accept - May 23, 2024)
Surgical Technologists must be knowledgeable in asepsis and sterile technique and be able to properly care for instrumentation, equipment, and supplies.
Basic sciences and clinical education include:
Microbiology
Anatomy and physiology
Pathophysiology
Surgical pharmacology
Surgical procedures
Case management
Wound care and closure
Surgical patient care
Safety
Surgical Technologists work in hospital operating rooms, central sterile processing departments, outpatient surgical units, medical companies as sales representatives, physicians in private practice, cardiac catheterization units or endoscopic departments. To become certified, students in their last semester must take the National Certification Examination for Surgical Technologists.
Riverside is proud to offer:
A program leading to an Associate of Applied Science Degree in Surgical Technology
Full-time Day option consisting of four 16-week semesters and one eight-week summer semester (72 total weeks - two academic years) in addition to specified College-level prerequisite pre-admission courses
Theoretical instruction integrated with laboratory simulations and clinical experience
Hands-on clinical experience in our modern medical center and a variety of affiliated clinical sites
Financial aid for students who qualify
Associated with Riverside Health System Career planning services for current students and alumni
Low Instructor-Student ratio
Prerequisite College Courses/Credits
Anatomy and Physiology with Lab - 4 Credits*
English Composition - 3 Credits*
College Math (any 100-level or higher) - 3 Credits*
Psychology: Gen, Intro or Developmental - 3 Credits
Medical Terminology - 2 Credits
*Applicants must have completed the Anatomy & Physiology with Lab, English Composition and College Math requirements before a formal application can be submitted and reviewed. Psychology and Medical Terminology must be completed before matriculation.
Preadmission Testing Requirements
ATI TEAS Suggested Score: 61.4% or higher
Average Accepted TEAS Score: 69.8%
Other Requirements
The applicant must graduate from an accredited U.S. high school with a GPA of 2.0 or higher or have earned a high school equivalency (GED) certificate.
Preadmission testing is required.
Surgical Technology
General Education Prerequisites: 15 credit hours
RCHC Program Hours - Theory: 39 credit hours
RCHC Program Hours - Lab: 6.5 credit hours
RCHC Program Hours - Clinical: 19 credit hours
ACCREDITED BY:
Commission on Accreditation of Allied Health Education Programs (CAAHEP)
9355 113th ST. N, #7709
Seminole, FL 33775
727-210-2350, www.caahep.org
The program is accredited by the Commission on Accreditation Review Council on Surgical Technology and Surgical Assisting (ARC/STSA), which conducts periodic surveys of the program and makes accreditation recommendations based on its findings to CAAHEP. The program is evaluated for accreditation based on the published Standards and Guidelines for the Accreditation of Education Programs in Surgical Technology, which is available on the CAAHEP website at www.caahep.org.
Accreditation Review Council on Education in Surgical Technology and Surgical Assisting (ARC/STSA)
19751 East Mainstreet, Suite 339
Parker, CO 80138
303-694-9262, www.arcsta.org
Accrediting Bureau of Health Education Schools (ABHES)
6116 Executive Blvd, Suite 730
North Bethesda, MD 20852
703-917-9503, www.abhes.org
CREDENTIALING:
Students in their last semester must take the National Certifying Examination for Surgical Technologists. Application and fees for the certification exam are included in the tuition. Past program graduates taking the National Certifying Examination for Surgical Technologists are responsible for the application and fee. Further information may be obtained from:
National Board of Surgical Technology and Surgical Assisting (NBSTSA)
3 West Dry Creek Circle
Littleton, CO 80120
800-707-0057, www.nbstsa.org
RCHC Licensure Disclosure Information
INSTITUTIONAL CERTIFICATION:
Certified by the State Council of Higher Education (SCHEV) to operate in Virginia.
SCHEV
101 N. 14th Street James Monroe Building
Richmond, VA 23219
804-225-2600, www.schev.edu
INSTITUTIONAL ACCREDITATION:
Accrediting Bureau of Health Education Schools (ABHES)
7777 Leesburg Pike, Suite 314
N. Falls Church, VA 22043
703-917-9503, www.abhes.org
RIVERSIDE REGIONAL MEDICAL CENTER IS ACCREDITED BY:
Tuition Breakdown for Surgical Technology Program
$350 per GEN/HLT credit
$350 per SUR credit
Total Tuition: $22,625
Other Associated Costs
Book Estimate: $741
Uniform & Shoe Estimate: $50
Credentialing Estimate: Included in Tuition
Surgical Case Requirements
Surgical Technology students are required to scrub for 150 surgeries to be eligible for graduation. More information on specific Surgical Case Requirements can be found here.
The RCHC Surgical Technology program's curriculum meets all eligibility requirements for graduates to apply for applicable registration and examination from the Commonwealth of Virginia. Department of Education regulation 34 CFR 668.43 (a) (5) (v) requires programs to disclose that there has not been a determination of whether a curriculum meets the requirements of other states unless otherwise provided in specific program information. To determine if a program meets any specific state other than Virginia, please refer here.