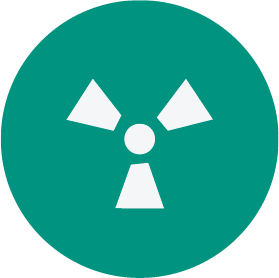 Upcoming Radiologic Technology Program Start Date:
August 19, 2024
(Application Deadlines: Early Accept - March 29, 2024 Regular Accept - May 23, 2024)
The RT educates patients by explaining procedures and obtaining consent before positioning each patient to obtain good radiographs of the right body parts. In addition, Radiologic Technologists keep patient records and adjust and maintain equipment. With experience and additional training, Radiologic Technologists may become specialists, performing mammography, CT scanning, angiography, magnetic resonance imaging, ultrasound exams and other imaging modalities. The Riverside School of Radiologic Technology started in 1964. Program graduates are eligible to apply for examination to the American Registry of Radiologic Technologists (ARRT).
Riverside is proud to offer:
A program leading to an Associate of Applied Science Degree in Radiologic Technology
Full-time Day option consisting of four 16-week semesters and one eight-week summer semester (72 total weeks - two academic years) in addition to specified College-level prerequisite preadmission courses - occasional evening and weekend hours may be required
Theoretical instruction integrated with laboratory simulations and clinical experience
Hands-on clinical experience in our modern medical center and a variety of affiliated clinical sites
Financial aid for students who qualify
Associated with Riverside Health System Career planning services for current students and alumni
Prerequisite College Courses/Credits
The following courses must be completed prior to application submission:
Anatomy and Physiology with Lab - 4 Credits*
English Composition - 3 Credits*
College Math (any 100-level or higher) - 3 Credits*
The following courses must be completed prior to the program start date:
Psychology: Gen, Intro, or Developmental - 3 Credits
Medical Terminology - 2 Credits
*Applicants must have completed the Anatomy & Physiology with Lab, English Composition, and College Math requirements before a formal application can be submitted and reviewed. Psychology and Medical Terminology must be completed prior to the program start date.
Pre- or Corequisite College Courses/Credits
GEN 111 Intro to Healthcare or a College Success Course - 1 Credit
Preadmission Testing Requirements
ATI TEAS Suggested Score: 60.6% or higher
Average Accepted TEAS Score: 74.7%
Other Requirements
The applicant must graduate from an accredited U.S. high school with a GPA of 2.0 or higher or have earned a high school equivalency (GED) certificate.
Preadmission testing is required.
Prospective students for the Radiologic Technology Program are urged to review the American Registry of Radiologic Technologists (ARRT) Ethics Pre-Application Review before starting any radiologic technology program.
Radiologic Technology
General Education Prerequisites: 15 credit hours
RCHC Program Hours - Theory: 43 credit hours
RCHC Program Hours - Lab: 4.5 credit hours
RCHC Program Hours - Clinical: 21 credit hours
PROGRAM ACCREDITED BY:
The program received an eight-year accreditation award from the Joint Review Committee on Education in Radiologic Technology (JRCERT) in 2018. The JRCERT publishes each program's current accreditation status at www.jrcert.org.
The Joint Review Committee on Education in Radiologic Technology (JRCERT) conducts periodic surveys of the program and makes accreditation recommendations based on its findings. The program is evaluated for accreditation based on the JRCERT-published Standards for an Accredited Educational Program in Radiologic Sciences. These Standards are available here. They are also available for onsite review by contacting the Radiologic Technology Program Director.
The Joint Review Committee on Education in Radiologic Technology (JRCERT)
20 N. Wacker Drive, Suite 2850 Chicago, IL 60606
312-704-5300, [email protected]
www.jrcert.org
CREDENTIALING:
Program graduates are eligible to apply for examination to the American Registry of Radiologic Technologists (ARRT). Application for the National certification exam is the student's responsibility and involves additional fees charged by the ARRT. Additional information regarding the registry may be obtained from:
American Registry of Radiologic Technologists (ARRT)
1225 Northland Drive
St. Paul, MN 55120
615-687-0048, www.arrt.org/
RCHC Licensure Disclosure Information
INSTITUTIONAL CERTIFICATION:
Certified by the State Council of Higher Education (SCHEV) to operate in Virginia.
SCHEV
101 N. 14th Street James Monroe Building
Richmond, VA 23219
804-225-2600, www.schev.edu
INSTITUTIONAL ACCREDITATION:
Accrediting Bureau of Health Education Schools (ABHES)
6116 Executive Blvd, Suite 730
North Bethesda, MD 20852
703-917-9503, www.abhes.org
RIVERSIDE REGIONAL MEDICAL CENTER IS ACCREDITED BY:
Tuition Breakdown for Radiological Technology Program
$350 per GEN/HLT credit
$400 per RAD credit
Total Tuition: $26,900
Other Associated Costs
Book Estimate: $1,275
Uniform & Shoe Estimate: $150
Supplies Estimate: $185
Credentialing Estimate: $200
Program Effectiveness Data
Radiologic Technology Program Effectiveness
The performance of the College's educational programs is reflected through program effectiveness data as defined by institutional and programmatic accrediting agencies. The College's program effectiveness data is provided in the "Consumer Information" link on the Policies, Disclosures, & Resources and includes:
Licensure or certification pass rates.
Graduation rates.
Program satisfaction rates from both the student and employer perspectives.
Job placement rates.
The RCHC Radiologic Technology program's curriculum meets all eligibility requirements for graduates to apply for applicable licensure and examination from the Commonwealth of Virginia. Department of Education regulation 34 CFR 668.43 (a) (5) (v) requires programs to disclose that there has not been a determination of whether a curriculum meets the requirements of other states unless otherwise provided in specific program information. To determine if a program meets any specific state other than Virginia, please refer here.
Program Mission
The mission of the Radiologic Technology Program is to graduate competent, entry-level radiologic technologists who are prepared to challenge the ARRT National Certification Examination and gain employment in the field of Radiology or Medical Imaging.
Program Goals & Student Learning Outcomes
Students will be clinically competent.
Students will demonstrate appropriate positioning skills.
Students will demonstrate appropriate use of radiation safety.
Students will demonstrate communication skills.
Students will demonstrate effective oral communication skills with patients.
Students will demonstrate effective written communication.
Students will develop critical thinking skills.
Students will evaluate and critique radiographic images.
Students will perform non-routine procedures.
Students will model professionalism.
Students will demonstrate ethical decision-making.
Students will demonstrate professional behavior.
Transfer of Credits
Discipline-specific courses will be evaluated for transfer credit on a case-by-case basis by the Assistant Dean of the Radiologic Technology Program, according to the criteria listed in the College catalog. Enrollment will depend on space availability. A $100.00 Transfer Evaluation Fee is required.
Graduation Requirements
Eligibility for graduation is based upon the successful completion of all phases of the program. Students must satisfy the following minimum requirements before graduation:
Complete each course with a minimum grade of 80% and satisfactory clinical/preceptorship/practicum performance.
Successfully achieve all required clinical competencies.
Successfully complete all required clinical hours.
Satisfy all financial obligations to the College, including all tuition, fees, library fines and financial aid exit counseling if applicable.
Return all College materials as required.
Clinical Obligations
Students are provided opportunities to develop theoretical knowledge and clinical competency through a planned progression of learning experiences. Clinic assignments are based on the student's theoretical preparation and level of training. Students will begin rotating through various clinical settings in their second semester. The ratio of students to clinical staff is 1:1.
Additional Costs Related to Clinical Placements:
Students are responsible for all costs incurred in travel to assigned clinical sites. Clinical placements are randomized, and clinical site requirements may vary. Students are responsible for meeting these requirements, which may include, but are not limited to: fees for drug screens, repeat criminal history background checks, and/or additional immunizations.
Riverside Regional Medical Center provides malpractice insurance for students during the normal scope of student clinical practice. The College recommends that the student obtain their own supplemental malpractice insurance.