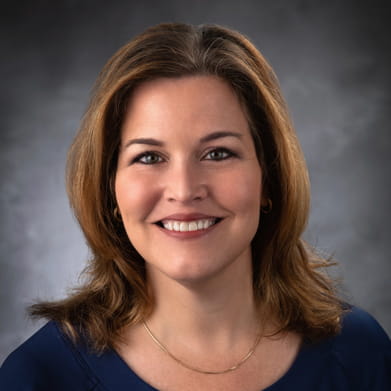 RCHC is proud to have the opportunity to serve the Newport News and Greater Peninsula communities with nursing education for over 100 years and the addition of allied health education since the 1960s! We are committed to providing high-quality, essential, and timely health care career education opportunities for many more decades to come. — Robin Nelhuebel, Executive Director of Riverside College of Health Careers
Our Mission…
Is to enhance the well-being and improve the health of communities of southeastern Virginia and beyond by providing high-quality, residential and online undergraduate education in nursing and allied health, preparing competent and caring professionals for careers within Riverside Health System and beyond.
We believe in…
Respect, trust and teamwork among our students, faculty, and staff that positively enhance our learning environment.
Change and its ability to drive creativity and innovation that leads to excellence.
Health careers education that fosters excellence, compassion, competence, safety, lifelong learning and self-esteem.
Meaningful community involvement and partnerships that result in improved health care education and community well-being.
Fiscal responsibility and resource management that supports growth based on workforce needs.
Learning environments designed to support students' educational and career goals..
The college treats students, faculty, staff and other stakeholders with consideration, respect, and integrity. We use the strategic planning process to enable the college and its programs to meet evolving health care education needs in a variety of settings. In planning, we listen to our stakeholders to better serve their needs and improve educational programs and graduate outcomes. The college provides practitioners who respond to the changing health care needs of Riverside Health System and other health care providers in our market area.
Riverside College of Health Careers is proud to…
Provide students with quality health care education to successfully attain credentials that meet or exceed requirements to practice in a specific health care career.
Prepare health care professionals who respond to the changing health care needs of Riverside Health System and other health care providers to care for patients and families in our communities.
Prepare students to be lifelong learners with an appreciation for continuing their education to include advanced degrees and additional certification.
Our History…
Riverside College of Health Careers evolved from a group of individual educational programs into a diverse yet unified college that educates nurses and other allied health professionals. The educational programs include: Professional Nursing (1916), Practical Nursing (1961), Radiologic Technology (1964), Surgical Technology (1969), Physical Therapist Assistant (2012), Nurse Aide (2017), RN-to-BSN Program (2020), and Cardiovascular Technology (ECHO) (2021).
The leadership of the programs came together in 2003 with the purpose of uniting as one educational institution on a single campus known as Riverside School of Health Careers. The newly formed leadership team from the founding programs designed the infrastructure of the campus and construction was completed in September 2005. The result was a new educational campus (containing over 96,000 square feet) with modern classrooms, skills laboratories, computer laboratories and a library with wireless internet access. The name of the school was changed to Riverside College of Health Careers on January 1, 2015.
The campus is approximately three miles from Riverside Regional Medical Center (RRMC), which serves as the College's main clinical practice facility. Today, Riverside College of Health Careers has nearly 70 faculty and staff team members and an average annual student enrollment of over 350 men and women. The Newport News Main Street campus is located on Virginia's Greater Peninsula in the southeastern area of the state. Many exciting and famous historical, recreational, and cultural attractions are located on the Peninsula or within an hour drive from the campus.
1916 - School opened as a Professional Nursing School
1922 - Library is opened
1952 - The school is nationally accredited
1961 - Practical Nursing added
1966 - The school becomes coed
1964 - Radiologic Technology added
1969 - Surgical Technology added
2003 - Breaking ground for establishing a unified campus
2005 - New Main Street Campus opened
2012 - Physical Therapist Assistant added
2015 - Name changed from Riverside School of Health Careers to Riverside College of Health Careers
2017 - Nurse Aide added
2020 - RN-to-BSN added articulation agreements with consortiums to Virginia Commonwealth University, VCU, Old Dominion University ODU, and Capella University MSN programs.
2021 - CVT Echo Added