Career Services Staff Support You Throughout Your Job Search
Collaborate with RCHC career services and we'll help you map out your long-term goals, find the just-right organizational fit and seize the career of your dreams. Our student engagement coordinator helps with:
Mock interviews: Refine responses to potential interview questions so you can be poised and prepared for anything.
Résumé reviews: Put your best foot forward with an impeccable résumé that highlights your marketable skills and experiences.
Job and internship opportunities: After getting to know your personal goals and strengths, the career services team will share relevant openings so you can apply and showcase your expertise both during your time as a student and post-graduation.
Active Recruitment: The Riverside Talent Acquisition team works with our Student Engagement Coordinator and current students to help find job opportunities within the Riverside Health System.
Take the first step toward your future career. Email our student engagement coordinator or call 757-240-2238 to set up a meeting.
Riverside Health System Recruitment
On average, more than one-third of Riverside College of Health Careers graduates choose to work within the health system post graduation. Our talent acquisition team is involved from day one. At new student orientation, representatives connect with students, answer their questions and exchange information to remain in contact throughout their programs.
If you are hired into the Riverside Health System, you'll automatically have one year of experience toward your starting salary in your chosen profession, a perk that shows you have the qualifications and training needed to excel at Riverside. Current Riverside employees also receive additional tuition assistance to attend Riverside College of Health Careers.
Whether you are seeking entry-level employment while in school or further along in your career, our career services help you make connections, polish your interview skills and find a role that's right for you.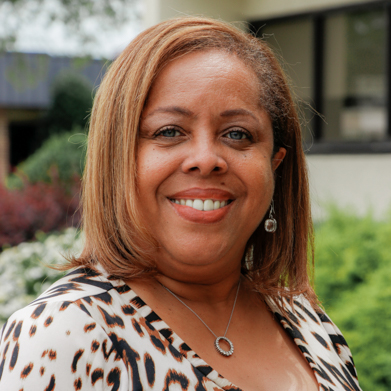 Sandi Bell
Meet the Student Engagement Coordinator
Get to know the Student Engagement Coordinator, Sandi Bell. She has extensive experience with career advising and will connect you with opportunities to achieve your academic, personal and professional goals.
Contact Sandi